Patrick Franks joined us on the Agents of Innovation podcast to talk trash. As the co-founder and co-owner of Go Doorstep, Patrick and his team get hired by apartment communities to pick up trash and take it to the dumpster on-site. For that added amenity, residents of such apartment communities pay a monthly fee as part of their lease terms and the apartment communities pay Go Doorstep for this service. It's almost as simple as that.
Go Doorstep services many apartment communities in the sprawling metropolis of Atlanta, Georgia. In most communities, the residents can choose to do this any one of the five nights a week that a Go Doorstep representative comes to perform this service.
The apartment community also makes a little income out of the deal because they pass on this garbage pick-up expense to their residents – that extra income hits their bottom line: some use it to pay for any range of items: perhaps applying it to waste management to come pick up the garbage from the dumpster, or for pest control, or to offer bonuses to their employees. It also helps increase property value.
"Every dollar they spend using our program creates five dollars of value when they go to sell the property," said Franks.
There are 17 million apartment units in the United States today – these include high-rises which tend to be in central business districts to small and mid-rise properties, which tend to be more in the suburban area. And, to fulfill the demand for new apartment homes, there will need to be 3.4 million new apartment units by 2030. A lot of those are going to happen in the Sunbelt, including the Southeast where people are moving for warm weather, lower taxes, and better economic opportunities.
"Real estate is a very central part of the business community in Atlanta," said Franks. Go Doorstep services properties ranging from as small as 125 units to as large as 500 units, but most of the properties they service – in every direction all over the Atlanta metro area – average 250-300 units. This is "part of the reason why this business works: we just get one check from the property," said Franks.
Go Doorstep launched in January 2015. Today it has about fifty employees. Some work in operations and sales, but the vast majority are part-timers (who range from 25 to 50 years old). Most of those part-time employees have other full-time day jobs and simply work 5-10 hours a week in the evenings for Go Doorstep. Starting pay is pretty good and it's a way for them to earn extra income.
"It's pretty cool to provide an opportunity for those people," said Franks. He also believes Go Doorstep offers "a virtuous and beneficial business model."
"Really, everyone is winning in the entire chain in all the relationships that happen. Residents save time. Owners make money and keep their community looking nice. Our employees make extra income that is not that big of a time commitment for them to make extra money, " said Franks. "And that's really how a business should be – it should be a win-win for customers, employees, partners, investors."
Franks wasn't always in this business. In fact a decade ago, he was working in politics right out of college. He worked for elected officials, think tanks, and nonprofits before joining Rubicon Global, an asset provider of waste and recycling solutions for large distribution companies, such as fast food chains and grocery stores, with many locations in different states.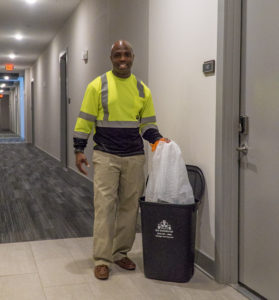 "The transition from politics to trash was kind of a natural one – and this is a much cleaner way to make a living than politics," Franks quipped.
But he also had a philosophical change about working on the backs of taxpayers or donors to creating value and earning profits himself.
"One of the problems that I had about working in politics is that ultimately my paycheck came from taxpayer money," he said. "Working in the nonprofit world, your funding is coming from wealthy folks who have gone on and done really well and had a surplus to donate to a cause they believe in and care about."
"I just thought it would be good if I went out and I worked in the private sector and created value and created income and hopefully be able to support other people and causes that I care about."
However, he has learned some things in the process. Owning a business doesn't mean you're your own boss or that you're wealthy. "The reality is when you run a business – you go from having one boss to having lots of bosses: you have customers, partners, investors, bankers, vendors, employees … you answer to a lot of people," said Franks. And, "as the owner, you're kind of the last one to get paid."
While Franks performs a lot of functions for the company – including sometimes pitching in on doing a trash removal when there isn't another employee to do it that day – he talked to us about some of the responsibilities that fall solely to the owner of the company.
"As the owner of the company, there are 3 things that only you can do: setting a vision for the company, making sure there's enough money in the bank to pay the bills, and allocating the financial and human capital."
And for Franks it really comes down to the following mission: "How do I support my operations guys, how do we invest that money, and how do we keep our customers happy?"
"I have to keep my employees happy because if I don't keep my employees happy than my current customers aren't happy," said Franks." And if I don't keep my current customers happy we lose business, which hurts. You can't get new customers unless you have good reference-able customers," he said. "I find if you really take care of your current customers, the rest kind of takes care of itself."
To  learn more about Go Doorstep visit: www.go-doorstep.com. To listen to the full interview with Patrick Franks, tune into Episode 50 of the Agents of Innovation podcast on Apple podcasts, Stitcher, or Soundcloud. You can also follow the podcast on Facebook, Instagram, or Twitter. We welcome your comments below!