Nathan Edmondson is an American writer, known especially for his comic series, Who is Jake Ellis? and The Activity. He's written for Image Comics and for Marvel Comics, including working on series that include The Punisher, and Ultimate Iron Man. As a guest on Episode 49 of the Agents of Innovation podcast, Nathan talked to us about his rise as an author in the comic book industry, as well as how he is bringing some of his comic books to the big screen, with A-List actors, and the philanthropic project he is working on now with EDGE, the Ecological Defense Group, to fight poachers in Africa.
For Edmondson, "writing is something that goes back to early grade school." Throughout high school, college, and as he got into another career – in international politics – right after college, he kept having "this itch to write."
As a high school student from Augusta, Georgia, he brought many of his short stories to a professor named Bill Sessions. Professor Sessions personally knew and worked with great writers such as Flannery O'Connor, Walker Percy, and Ernest Hemmingway. Sessions gave Edmondson some key advice as he began to make his way in the world: Go learn what to write about; figure out the world and then you can figure out the writing.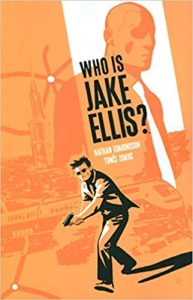 In 2009, Edmondson came out with his first comic book series, Olympus. It was an adventure sci-fi series that was picked up by IMAGE publishing house. It quickly got some television and film interest.
"A year before that, if you had asked me, I don't think I would have ever said I'm going to be a comic book writer," said Edmondson.
A Mercer University graduate, Edmondson has lived in Europe, Washington, DC, and currently makes his home in the Los Angeles area.
Even though Edmondson has a degree in art and art history, he doesn't participate in the illustration of the comics. But he loves seeing how other artists envision his characters and make them come alive on the page.
"There is a joy I found getting into comics that is like instant gratification because you immediately see your idea realized in really fantastic fashion and in ways that you never anticipated," said Edmondson. "It's a surprise. Every piece of art, every page that comes in. It's a surprise because you projected it one way by writing it – it lived in your mind. And then you hand it over and it comes to life in someone else's mind and they bring it to life – give it life on paper, on the page. And to see that: it's a real drug – especially if you're an art lover."
He also believes that "there's nowhere else in the world that art thrives like it does in the comics industry, where artists can work and get paid for their work and thrive."
He has three comics in early stage of movie production that he has sold to filmmakers. All will include A-list actors as his stories are brought to the big screen. Just as he was excited to see artists take his stories and provide drawings for comic books, he's also just as excited to see how they are adapted to cinema.
Ken Nolan, who is famous for the film Black Hawk Down, has already adapted his comic book, The Activity, into a screenplay.
With a wife and two kids, Edmondson still finds himself with free time and he has used that time towards philanthropic projects, including one that came to him through a visit on safari in South Africa. "This trip of a lifetime became a calling," he said.
While he was working with some guys in the military community, he found out about some things being done in the counter-poaching arena in Kruger National Park in South Africa. His first thought was to do a docuseries on it.
He wrote an article about one of his experiences there called "The Lions of Kuger."  Through his experience with this group of counter poachers, Edmondson was involved in night vision training, tracks, solutions for K9 programs, and suddenly found himself as part of a team to stop poachers of wild game in Africa.
"As part of a team, I just did what I do – just kind of start to spout ideas," said Edmondson. They wanted to put together a nonprofit to carry on the project and he found himself involved with funding and designing programs, including ways to get donors directly involved with various projects.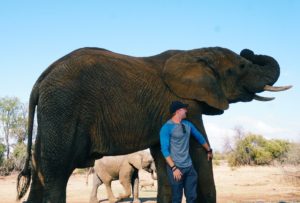 They created EDGE – Eco-Defense Group. And now Edmondson spends more of his time time working on this than anything else, including his writing – which has taken a backseat.
They have designed an innovative philanthropic program where 95 cents out of every dollar goes to a project. There is little overhead and there is a diversity in projects that fits the donor's interest.  "We were formed out of need and the passion came afterward," said Edmondson. He gives donors experiences "behind the scenes" in ways no tourist could do to invest them in becoming part of the solution for solving the crisis.
They will also soon be bringing some of the counter-poaching rangers to train on U.S. soil for the first time.
"We are making history … we have access to areas that are literally the front lines of the poaching wars in all of Africa, where the greatest species decimation and also the greatest population by diversity and the greatest speciation exists and is in need of defense."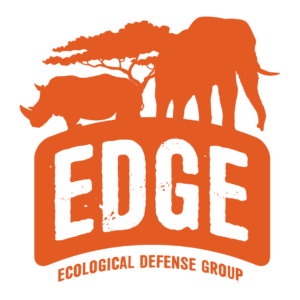 "I want my kids to experience this and experience these animals alive and in the wild. No zoo can compare to seeing these animals thriving in their territory," said Edmondson. "Our birthright, in part, as stewards of this planet is to be stewards of these animals," he said. "Poaching animals is something upon which we will be radically judged … exploiting those animals for gain is a hard thing to tolerate once you see how people live in harmony with them."
To find out more about EDGE, visit: ecodefensegroup.org. You can listen to our full interview with Nathan Edmondson on Episode 49 of the Agents of Innovation podcast on Apple podcasts, Stitcher, or Soundcloud. You can also follow the podcast on Facebook, Instagram, or Twitter. We welcome your comments below!