4 Rivers Smokehouse has become one the best known barbecue chains in Florida, especially in Central Florida, where John Rivers opened his first restaurant location in Winter Park in 2009.
But perhaps it was a mistaken phone call he received in 2005 that started it all. Rivers was sitting at his desk when he received a call from someone was calling because they thought Rivers' daughter was diagnosed with cancer. The caller had been mistaken. It wasn't Rivers' daughter, but another girl about the same age.
"But it moved me so much, that I remember telling Monica, my wife, 'We have to find out who this family is and we have to find a way to help them.'"
Rivers reached out the family to try to find a way to help. He decided to host a barbecue for the young girl, Megan, at the family's church. He told them to invite whoever they wanted, and he would be the pit master. And whoever wants to donate money could do it to help raise funds for her treatments.
450 people RSVP'd for it and Rivers only had ten days to prepare for the event. "That was the genesis of our barbeque ministry," said Rivers.
At the time he received this call, Rivers was nearly twenty years deep into a successful career in the health care industry. During that time, while he traveled around the country for work, he had the opportunity to taste many different regional variations of barbecue. It helped inform the food that 4 Rivers customers would later encounter in his restaurants.
"When you look at our menu today, every item that is on there … comes from a different region of the country," said Rivers. "That was strategically important to me. I didn't want to be pinpointed just into one particular flavor profile." The pulled-pork comes from Alabama, the chicken comes from Georgia, the ribs come from North Carolina, the brisket comes from Texas, Oklahoma, and Kansas City, and the Tri-Tip comes from California.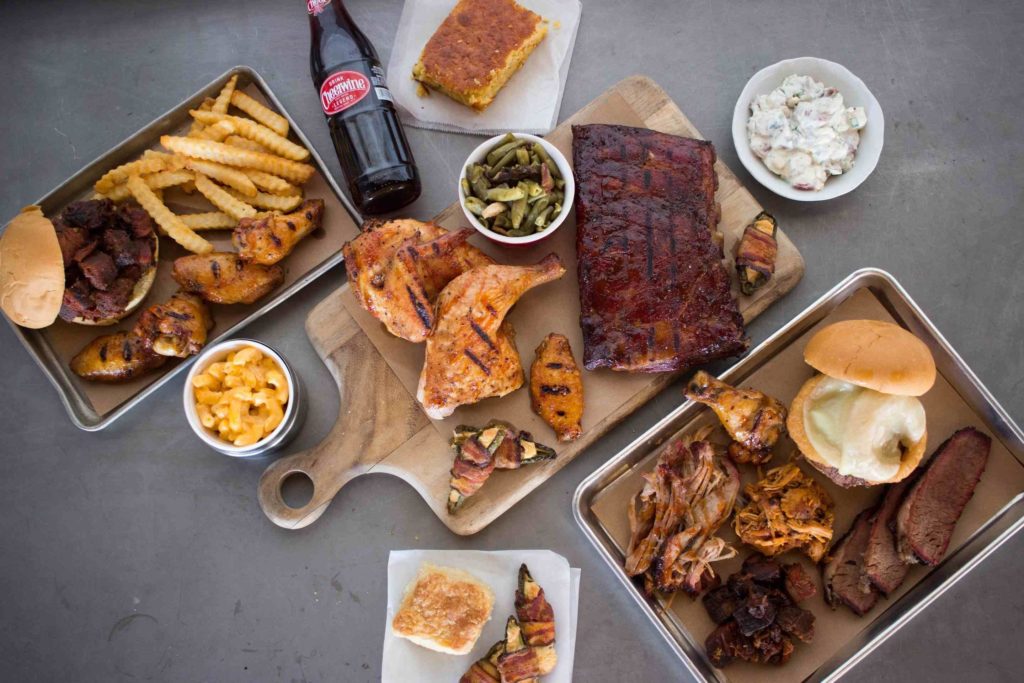 "Back in 2009, 2010, when we opened, no one in Florida really did brisket," said Rivers. "No one really knew about it and how good it was – and that's why it's on the front line of our restaurant when you come in. I had to educate people about how good brisket was."
John is married to a Texan and claims that about nine out of ten Texans who have eaten brisket at a 4 Rivers restaurant have thanked him for bringing Texas barbecue to Florida.
While still a busy executive in the health care industry, that first fundraiser he did for the young girl stricken with cancer opened his eyes that perhaps his passion for barbecue could be used for good. "That was the very first time that I took this passion," said Rivers, "and I lined it up with my actions."
"So many times, we think that happiness comes with money or titles – and it's not. I know a lot of rich people who are very unhappy," said Rivers. "Happiness comes when you are lining up your passion with your occupation and your actions and especially if you are doing it to help other people." Reflecting on that first fundraiser for Megan, he said, "That was the first time I had ever done anything like that, and I became alive."
Over the next four years, he continued his barbecue ministry for all sorts of fundraisers and causes. "During those four years something happened," said Rivers. "I was one person Monday through Friday when I went to work, and I was a completely different person on Saturdays and Sundays when I was running the ministry."
"The disparity between those two people became so great. I did something that shocked everybody. I retired," he said. "Sometimes you have to take yourself out of the wrong position – literally – to allow yourself to see the opportunities that get you into the right position that you need to be in life." Rivers retired as president of a $1.5 billion health care company.
"If you're doing something you're passionate about, first, bring passion into what you're doing and if that still doesn't satisfy you then go find something that is going to make you happy and bring passion into your life," said Rivers. "Life's too short. You ought to do something you really believe in."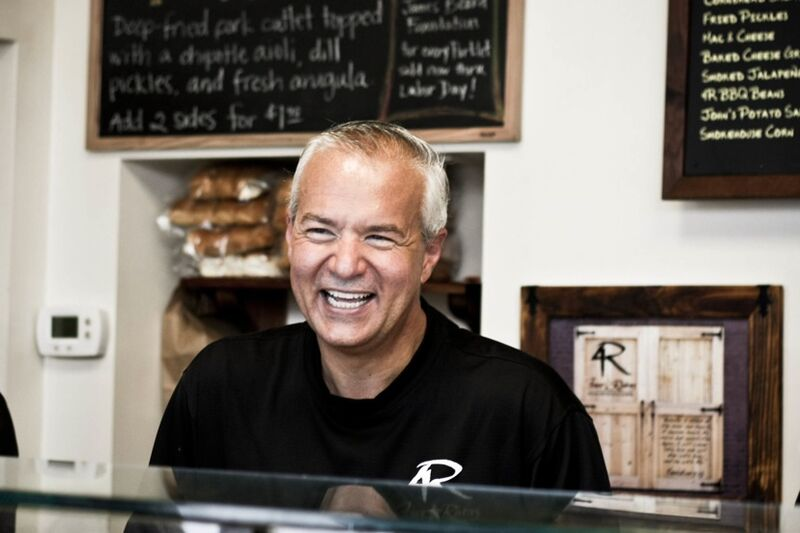 In the last year of doing the barbecue ministry from his garage, they served over 40,000 people. The first restaurant he opened in 2009 wasn't supposed to be a restaurant. It was supposed to be a commissary that we could run the ministry out of, said Rivers. "God blessed us and here we are today with a bunch of restaurants."
And blessed they are.
4 Rivers Smokehouse quickly became one of the fastest-growing restaurants in the Southeast. At their pre-COVID peak, there were 23 locations of 4 Rivers around Florida, with just shy of 1,000 employees. He also has a few other restaurants, The Coop, which was named Central Florida's "Best Southern" restaurant by Orlando Magazine. He also started the 4 Rivers Cantina Barbacoa Food Truck, a Latin-infused cantina barbacoa at Disney Springs, which has garnered national recognition.
MSN named 4 Rivers as the #1 barbecue restaurant chain in the country and Nation's Restaurant News recognized 4 Rivers as one of their top five breakout brands.
Restaurant Business has named John Rivers a "power 20 leaders" in the restaurant industry. The Orlando Business Journal has named him the philanthropist of the year in 2019. John is a graduate of Florida State University. Today he serves on the board of governors of FSU's College of Business.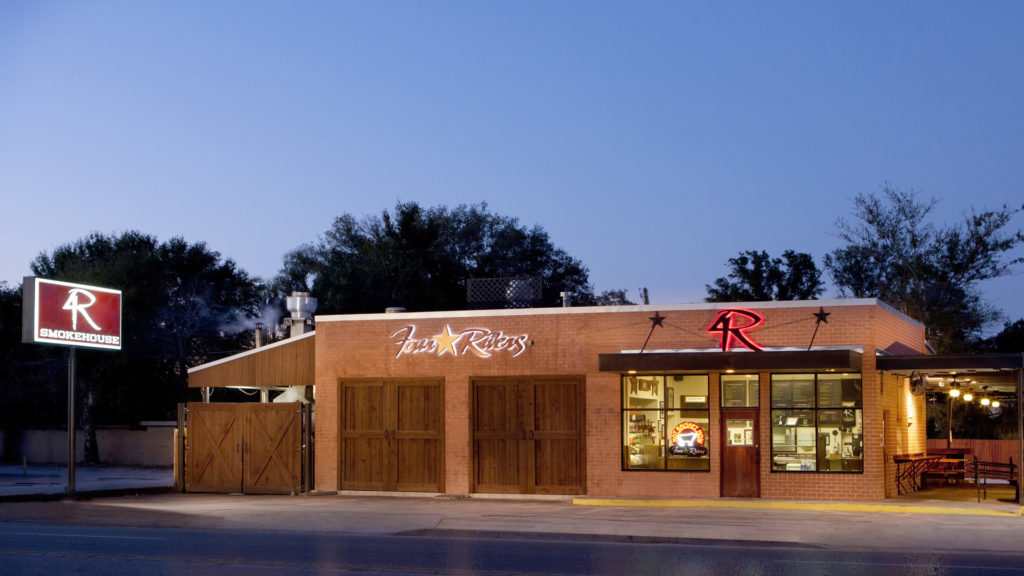 John lives in Winter Park with his wife Monica and two children, Jared and Cameron. He also serves on the boards of his church, numerous schools, and charity organizations, including one he established: the 4R Foundation.
Rivers said the "barbecue ministry" itself has nothing to do with religion. "My ministry is to give back to people, to help the community, be it from food, be it from education, be it from mentorship. People leaned into my life when I was down and out, and I know they changed the trajectory of my life. And to have the opportunity, when God has given you a platform to touch and affect so many people, it's to be able to use that."
"You can make an impact in people's lives in the place you are today," said Rivers. "Every person you meet, every single day, you have a chance to impact their life, just by the way you treat them."
"Business is a relationship – it's a relationship with the community that you're serving. If you're not willing to form a bond with them and understand what those needs are – and especially if you're not willing to step in and help fill those needs – how can you expect the community to come and fill your needs of buying your product and supporting your business?" He adds, "It has to be sincere."
Due to the impact of COVID-19 on the restaurant industry, 4 Rivers lost 50 percent of their business overnight, said Rivers. "There were weeks we were burning over a million dollars a week in cash. We had to pivot very, very quickly. This company, 4 Rivers, was built out of coming out of the trenches and beating all the odds … so there's been a galvanization, a determination on this team, that we're going to fight for everything."
"This was a big test," admitted Rivers. They were forced to make a lot of layoffs, "which was incredibly sad because we don't call our employees 'team,' we call them family, but we had to do it in order to survive." He did make a promise to every employee that once they built the business back, they would welcome people back on their team who wanted to rejoin.
During the COVID-19 pandemic, 4 Rivers has pivoted all over the place. They instituted virtual drive-thru windows, they started selling grocery items like that much-coveted toilet paper.
"We had all these assets, catering facilities, vans, trucks, and people – we were laying off people," said Rivers. "But I said: we aren't going to stop the ministry effort. This is now more important than ever."
They reached out to their school partners at Orange County Public Schools (OCPS) and offered to fill the gaps of feeding kids in the community. "Gaps started popping up all over the place. We started feeding these kids and these families," said Rivers.
John and his team sent emails out to other restaurant companies all over the state and let them know if they had any extra food, 4 Rivers had catering kitchens that were empty and could be used to feed those in need.
"It started coming in from all over the place." He then learned about all the produce that was going bad on farms all over the place because no one was buying it. So, they started a vegetable and farm rescue program. "We took all this food in and turned it into meals."
As of the time of our interview for Episode 85 of the Agents of Innovation, which took place in early October, 4 Rivers had already hired back over 400 people and served over 1.5 million meals to those in need and rescued over 500,000 pounds of produce that would have otherwise gone to waste.
"The people that we brought back – not only were they happy to just have a job again – but they went from frying fries in a smokehouse in a restaurant to building meals for people who needed food. And you talk about fulfillment – they were happy as could be."
The 4R Foundation was established well before COVID19. It is focused on the core principles of supporting education, creating jobs, and feeding people.
The 4R Foundation works with OCPS and saw the horrible nutrition that students, especially those on free lunch, were eating in schools. John learned that one out of every five students live in food insecurity – meaning for many of those students, it's the only meal they get all day. "So that meal is so important," said Rivers.
While John works with great food bank charity organizations like Second Harvest, he repeated a line from a friend of his who runs that organization: "You can't food bank your way out of hunger," said Rivers. "Giving food away is not the answer. It's a piece of it, but you have to go deeper. You have to educate kids and families about where does food come from and how do you create a healthy balance?"
The 4R Foundation helped two inner city schools in Orlando build gardens on campus, where students learn how to grow food, sell it to the school's cafeteria, where it is served for them.
The 4R Foundation also set out to build a farm campus. The 4Roots Farm Campus resides today on John Young Parkway in Orlando. In partnership with Dr. Phillips Charities and the City of Orlando, they will be breaking ground on it in December and bringing in 40 students from all around the state and bringing in farmers from all over the country, to teach them about regenerative farming practices, to show them how to give back to the soil and how to increase their yields, and how to sequester carbon to stop the impact on climate change, and bring in health care workers and teach them about culinary medicine. They also want to build a national institute for culinary medicine.
"330 farmers in the U.S. lose their property every single week. The average produce we eat today has traveled 1,872 miles to get to your plate," said Rivers. "So, think about the fossil imprint that you've made in bringing that product all the way over here. On top of that, think about all that nutrition you've lost because it's been sitting in a truck, and think about all the farmers that are here that are losing their property that you could have been buying from."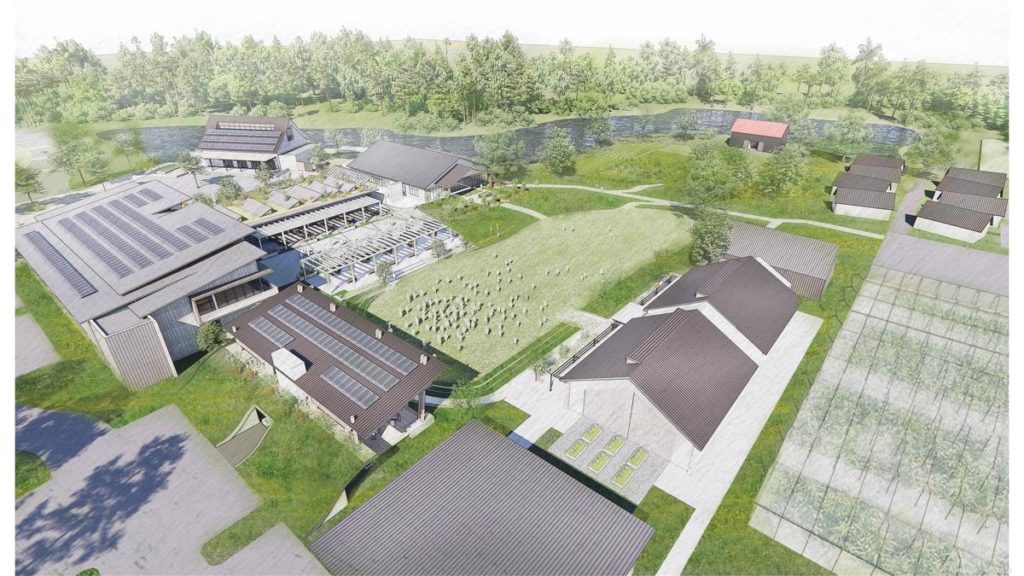 When you can't make it to a 4 Rivers Smokehouse, you can find 4 Rivers barbecue products at grocery stores like Publix and Winn-Dixie. This was a strategic move, about two and a half years ago, to diversify their portfolio. In addition to the restaurants, they started a manufacturing and retail division. They ship some of the food they manufacture to other restaurants around the country as well as cruise lines and stadiums and convention centers.
With all the pivots he has made to keep his company afloat, as well as the strategic moves to diversify 4 Rivers, John Rivers seems to be a natural entrepreneur. His advice to those who want to become entrepreneurs: "If you start stepping out, you better be willing to put your heart into it. If it's too easy, then it's not worth doing."
A couple of philosophies he offers: "Invest a little and learn a lot." All those years of doing the barbecue ministry out of his garage was "testing, testing, testing," he says. Through testing, one learns a lot about what customers want and what market is available. "You're going to make mistakes, might as well make it on small investments and instead of a big one."
During our conversation, Rivers reflected on his first real job when he was 16 years old. It was at a pizza place in Jacksonville called The Loop. He applied to be a cook. "Even back then, as a kid, I loved to cook," he said. The manager gave him a job – but it wasn't to be a cook. It was to wash dishes. "I was so young and naïve I turned to him and I said: I'm sorry sir, on the application, I think there's been some sort of mistake, I filled out to be the cook." The manager told him: you have to work for what you want. You don't just get it. While he found a way to lift his spirits and work hard as a dishwasher, and even receive a promotion – to bussing tables – he never did quite find his way to be the cook at The Loop.
"The one thing I learned is that when you're in a position you're not enjoying is to become the best there's ever been in that position and once you start to excel at it, people are going to notice, and you create the doors that open for you that give you the opportunity to move on."
Those positions at The Loop taught him work ethic. He finished high school, paid his way through college, and worked twenty years in the health care industry, before finding his way back to his passion as a cook through the barbecue ministry. It eventually led to him to establishing 4 Rivers restaurants at the age of 42 years old – and later the 4R Foundation.
"The joke is that I had to open my own dang restaurant in order to be able to get in there and cook and do it," said Rivers.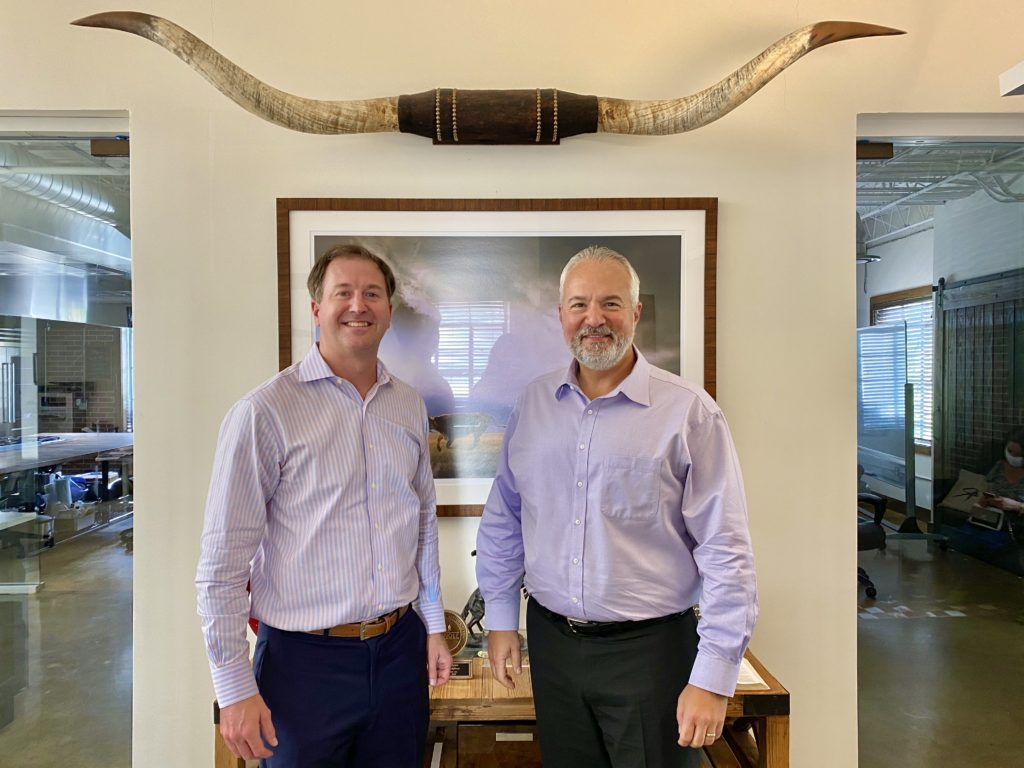 It may have taken him a few decades to get back into the kitchen and become the pit master. However, once John Rivers found a way to align his passion for cooking good barbecue with the actions built on the mission of his barbecue ministry, it allowed him and his team to not only feed people in his community, but teach them how to become their own cooks too.
You can listen to the full interview with John Rivers on Episode 85 of the Agents of Innovation podcast, on Apple podcasts, Amazon podcasts, Stitcher, and SoundCloud. You can also follow the podcast on Facebook, Instagram, or Twitter.
Please consider supporting the Agents of Innovation community by becoming a member of our Patreon page today, starting at just $5 a month!