Sam Souhail is the owner of two cigar lounges, Casablanca Cigar Lounge in Asheville, NC and Casablanca Tobacconist in Hendersonville, NC. He also owns a smoke shop called Tobacco Plus, also located in Asheville. However, while he is viewed as a successful entrepreneur today, the path was not an easy one. We sat down with Sam, over cigars (naturally), at Casablanca Tobacconist in Hendersonville, to interview him for Episode 86 of the Agents of Innovation podcast.
Sam originally hails from Casablanca, Morocco. His father was a banker, his mother was a nurse. They encouraged him to go to school and he was not allowed to work a job. But the call of the entrepreneur was inside him and he followed another path.
At the age of 20 years old, he traveled to the United States. His parents sent him with just $300. He arrived into the Atlanta airport and made his way to Durham, North Carolina, where one of his relatives had been living and gave Sam a place to stay for his first six months in the U.S. That same family member also helped him secure his first job, selling clothes at a store in the mall.
When Sam arrived here in 2005, at the age of 20, he did not speak any English. He did, however, speak Arabic, French, and Spanish. He worked jobs in retail, restaurants, convenient stores, and gas stations.
Despite a communication barrier with customers as a salesman at that first clothing store in the mall, he still ended up the second-best salesperson in the store. But he had a goal: "Work for myself, be my own entrepreneur, be successful, have a future on my own. I don't want my parents to help me to build my life," he said. "I just wanted to choose my own path."
Souhail said his experience in the United States has showed him this place is full of so many hard-working people. "People take pride in what they are doing," he said. "It's definitely the land of opportunity … there's more opportunities in this country than anywhere you can go."
His first experience working in a restaurant showed him it is extremely difficult work. As an immigrant, he worked below minimum wage and noticed how immigrants were treated differently than others. "I definitely learned how to not give up, to work harder, and definitely not [mistreat] my coworkers the same way."
One employer he worked for owned a convenience store, a gas station, and a tobacco shop and Souhail was moved around into different roles at all three of them. At the tobacco shop, they had a small humidor within it, with cigars. He mostly enjoyed talking to the customers who bought cigars, the kinds of conversations that surrounded those cigars. That seemed to plant a seed inside him. After these various experiences, he now had some ideas of various kinds of businesses and the ones he might be most interested in starting.
For about four years, from 2005 to 2009, Souhail worked 12 hours a day, seven days a week. Some days he worked at the convenience store from 7:00 AM to midnight. He had very few days off.
"If I took a day off it was Thanksgiving, when the restaurant closed, and the mall closed." He added, "and a half-day on Christmas. The mall did not close on Christmas." He also never visited Morocco during those four years, however family and friends did visit him a few times and he would see them around his work hours. "I was laser-focused on work. Just working and picking up as much experience, learn from other people's mistakes, learn from my mistakes, and save as much money as I can," said Souhail.
During part of his journey, Souhail was homeless. For several months, he slept under a bridge. "It made me be stronger and built my personality," said Souhail. "I was homeless. I did it. I slept under the bridge. It was rough, but it makes you appreciate anything you have. It makes you appreciate roof above your head, food on the table, cigar in your hand, clothes above your shoulder."
For those who might be facing similar challenges in their own life, Souhail's advice is: "You just got to keep focusing, keep your head above water, you got to keep going, don't give up."
Between all these jobs, he did manage to meet a beautiful young woman named Brooke, who he married in 2008. He considers her his best friend and now also his business partner. In 2009, they moved from New Bern (on North Carolina's coast) to the mountains of Asheville, NC.
In 2011, they opened their first store, Tobacco Plus, on 6 Eagle Street, in downtown Asheville. "I was extremely excited, the sky was the limit, and when we opened up the first day, we made less than $20," said Souhail. While he primarily sold cigarettes, pipes, cigars, drinks, and snacks, he began listening to his customer's needs. "As an entrepreneur, I don't follow what I want, I just follow what the customer wants. Customers pay our bills. We are in the retail business for the customer, not for us," said Souhail. When the customer asks for something – especially more than once – he begins stocking those items. He kept the store open every single day, no holiday breaks, for two years straight.
His wife had a dream of going to culinary school, but at times put school on hold to help her husband Sam build their business. "She gave up her career helping me in the shop," said Souhail. "That really touched me a lot – to find somebody in your life that are able to give up their career to make you more successful than even her – because it's her business as well – that was a lot; it was like wow," said Souhail. "It was above and beyond true love." While Sam is the man out front, the face of the business, talking with customers, his wife does the hard work behind the scenes, he says.
"We disagree at work – we should – and when we come to work we are coworkers, so we can talk, we can argue sometimes, we can have different opinions and that's what makes us a good team, that will make us more successful," said Souhail. "As soon as we close the business door, me and her, we are friends, and husband and wife outside, and we try to keep that relationship separate, so when we are at work we strictly talk business and we disagree – and I don't think there's anything wrong with disagreeing; in fact, sometimes you come up with better results when you disagree with your team."
"If you have different opinions, it doesn't matter who is right and who is wrong, we have to figure out what's the best solution for the business long-term," said Souhail. He also says that if you want to be a successful entrepreneur, listen to your coworkers (including employees, which he still calls coworkers), treat people the way they want to be treated, and gain the customers trust, which you can do best by being honest with them.
In 2016, they opened Casablanca Cigar Bar in the Biltmore Village in Asheville. The lounge is very high end and has been featured in Cigar Aficionado magazine, which said Sam's bar "has raised the game in North Carolina's artsy mountain city."
"This is the place, if you want to relax, you should be at Casablanca," said Souhail. "We have two kinds of customers: the ones that they already have a great day and they want to finish it with a great cigar and they come to join us and we will definitely make it worth the trip; or the ones who have had, sadly, a bad day, and they want to convert it into a good day and so they can come and join us for a cigar. Either / or we always have a happy ending for our customer and before they leave, they have a huge smile and thank you before they leave. That's what you get when you do what you love and have a passion. Timing doesn't matter. We are patient with our customers, we would love to serve you, we would love to pick out a cigar for you, we would love to bring you into the industry and show you more about the cigars and the rest of it."
In 2017, Sam recruited one of his customers, a retired man named Tim Rayburn, to become the manager of Casablanca Cigars in Asheville. Within days of Tim starting to manage the lounge, Sam and Brooke left for Morocco – for two years! They trusted their coworkers to run their two shop and lounge. "If you cannot trust your coworkers … you will never be able to leave," said Souhail. "I know so many business owners, they cannot leave their business for a day."
Sam returned a few times each year to check in. And, in 2018, during one of his visits, he bought a property in Hendersonville, where he later opened his third business, Casablanca Tobacconist, opening their doors to customers in June 2020. This is where we met for our interview for Episode 86 of the Agents of Innovation podcast.
While abroad, he and Brooke traveled through Europe for six months, including visiting his sister in Belgium. During their time there, their third child was born (in Belgium).
They returned to North Carolina in early 2020, for what they thought would be just a few months. But then, COVID19 hit, shutting down travel, the country's borders, and many restaurants, bars, and lounges.
During COVID19, the Asheville location has not been able to serve alcohol since March 2019, by order of the Governor or North Carolina. They decided to close their doors for a month in the early days of the pandemic, in March and April. However, they have now been reopened for quite some time and they do plenty of cigar sales that has kept them afloat. In fact, despite the lockdowns, and the inability to sell alcohol, they have gained more business in 2020. While their Asheville location was closed, they spent some of that time on refurbishing their new Hendersonville location to prepare it to open to customers in June 2020.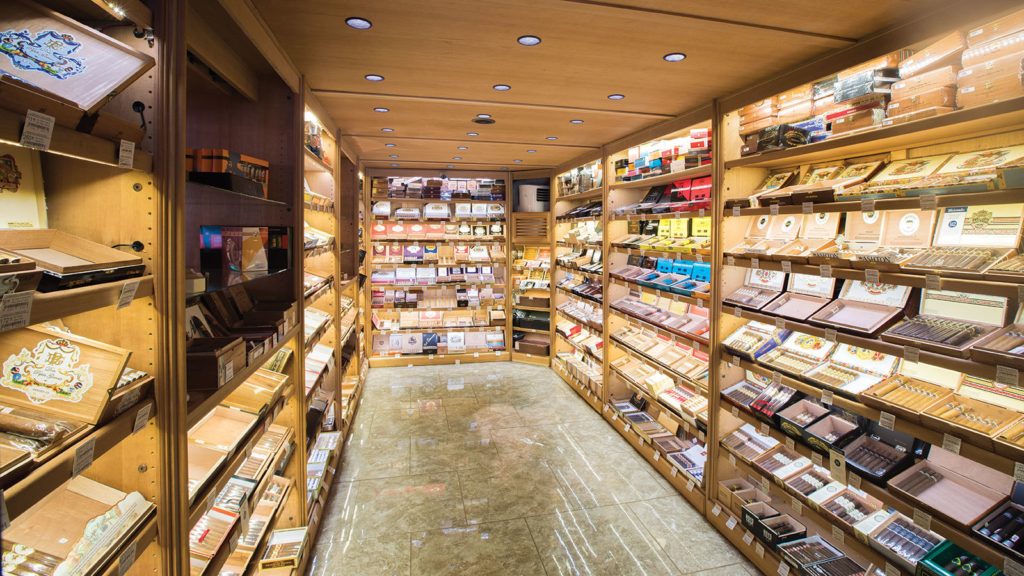 Customers in Asheville have access to lounge chairs, a conference room for business meetings, and large screen televisions for sports and news updates. In Hendersonville, they have both an indoor and outdoor patio space. "We don't cut corners," said Souhail. "I don't like to cut corners."
Reflecting on his story of coming to America fifteen years ago, with just $300, and the success he and his wife are now enjoying, Souhail said. "There's nothing better than starting from scratch. Start from the bottom and work your way up. It feels so much better. You feel honored. You feel like you are self-sufficient," said Souhail.
"Have a goal. Stick to it. And don't just have a plan. Have a plan A, B, C, D, E," said Souhail. "If this one did not work, you jump to the other one."
He and his wife Brooke were so focused on their goal, they sacrificed enjoying the finer things of life and were extremely focused on saving every dollar they could. They had a weekly combined budget for the two of them of about forty to sixty dollars per week: this included groceries, all food and drinks, gas, and every other kind of living expense other than rent.
"Remember, we were in our 20s," said Souhail. "I did not enjoy my 20s as like any normal 20-year old person, male or female. I just worked so hard and saved as much as I can."
"You need to give up something to get to point B," said Souhail. "If you want to reach your goals, if you want to be successful, you got to give up something." He talked about the fact that he knows why his father did not give him more funds when he was young. He wanted him to learn how to be self-sufficient.
"Kids are smart and if they can pick up something now, it is stuck for life," said Souhail, who is now a father of three. "I am trying to teach my kids: nothing for free, work for things, make sure they clean up their bedroom before they come to breakfast, make sure they clean the mess after themselves."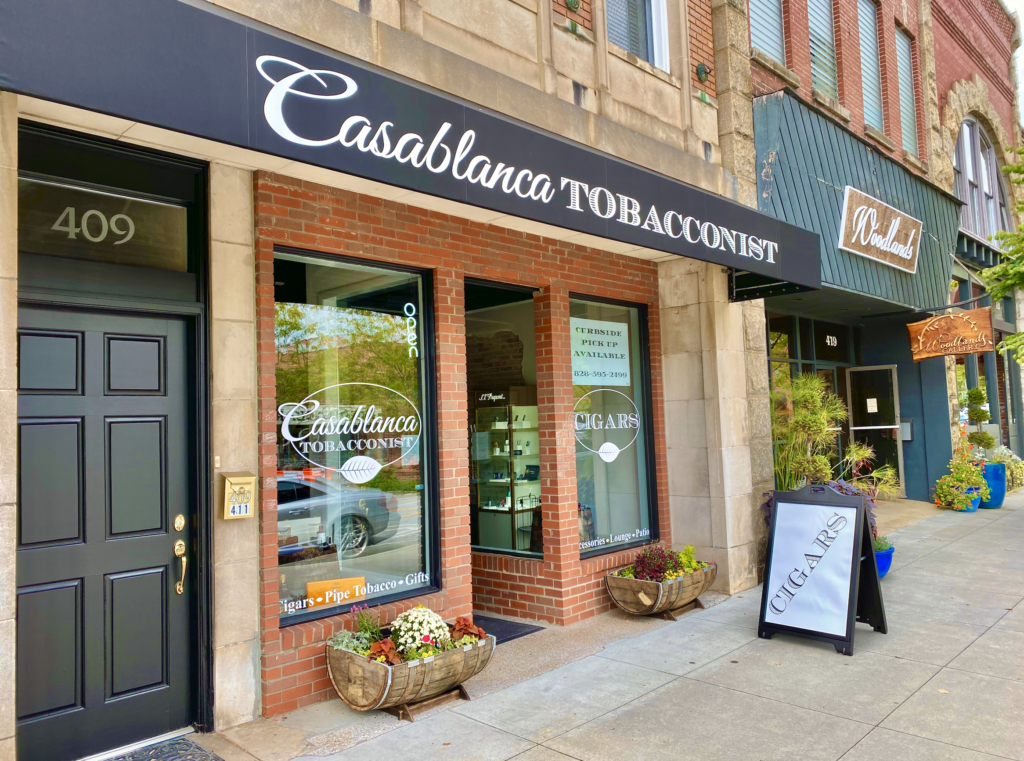 "America is still the land of opportunity," said Souhail. "Don't wait for the opportunities to come to you. Create your own opportunities. Create job for yourself. Don't wait for people to hand things. Get up and do something … It is the American Dream and I've been lucky enough to live it."
"This country is based on immigrants … it doesn't matter who you are or where you're coming from, you can make it." His next dream is to support his wife. In addition to her running part of the business at the cigar lounges and tobacco shop, she has now completed culinary school to become a chef and plans to open a Moroccan restaurant in the Asheville area. Sam and Brooke are still young in their mid-30s and, while their path has been one of much sacrifice and hard work, it is a story that may just be beginning. After all, this is America.
You can listen to the full interview with Sam Souhail on Episode 86 of the Agents of Innovation podcast, on Apple podcasts, Amazon podcasts, and SoundCloud. You can also follow the podcast on Facebook, Instagram, or Twitter.
Please consider supporting the Agents of Innovation community by becoming a member of our Patreon page today, starting at just $5 a month!