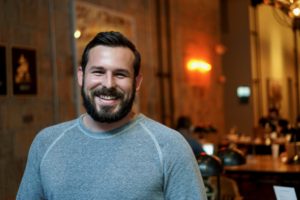 Spencer Pitman is a partner at The Ready, an org design and transformation partner that helps companies and organizations leverage technology to change the way they work. A native of Jacksonville, Florida, Spencer now lives and works from New York City, where he teamed up with The Ready's founder, Aaron Dignan more than a year ago.
Before joining The Ready, Spencer had done consulting and advising work for startups in California and Colorado, as well as some government contracting work. He was later involved in the nascent technology movement in Jacksonville, which has had a social support network of public-private partnerships. And just before joining The Ready, he was with Made in Space, which specializes in leveraging the unique properties of the space environment to develop solutions to commercial, industrial, research and defense challenges. While he enjoyed his work there, he didn't want to be in Silicon Valley and started looking east. That's when he teamed up with Dignan to join The Ready, where he now lives and works from New York City. That's where we caught up with Spencer for an interview for Episode 39 of The Agents of Innovation podcast.
The Ready works primarily with Fortune 100 and Fortune 500 companies. Clients include General Electric, Microsoft, Uber, Airbnb, as well as large nonprofits like Charity Water. "We really work on whole cloth cultural and technological transformation where we are rethinking the DNA of these very large companies," said Pitman.  "We sell one thing: transformation. But the truth is – that one thing – there's a lot of diverse activity that can happen within it."
"There's a maintenance aspect of innovation," said Pitman. Large companies today have many resources available to them, but they also have to balance shareholder investment today with long-term success. "What we're really trying to do is build companies that are purposeful."
"Human beings are the best at sensing and responding. Technology is actually pretty terrible at that," said Pitman. "Technology is good when it has predictable inputs, giving predictable outputs." What we want to do, he says, is "leverage technology … to take the rope tasks – the repeatable, functional stuff – off of people's plates and give more space for humans to do the complex pattern recognition and the complex planning that we're actually really good at."
The Ready started in 2015 and has tripled in revenue in the past year. Spencer and his team spend much time helping other companies rethink themselves, as well as evaluate the culture inside those companies. This also helps them self-reflect on the dynamics within the culture of their own organization.
"We actually look for how much people are enjoying their work here as some level of signal," said Pitman. "If it's really arduous and frustrating and stressful for people to be part of our company we usually take that as a sign that we need to look carefully at what we're doing."
Spencer pays very close attention to detail and quality control. It's something he learned from his very first job: when he was 12 years old, he worked for his family's wholesale produce company in Jacksonville, Florida. Stepping into the footsteps of a company founded by his great-grandfather, Pitman was grating onions and moving potatoes off of train cars into a warehouse. It was "very manual labor," he says. While his family's name was on the side of the building, that didn't matter. And it's a lesson he can apply to the many large corporations he works with today.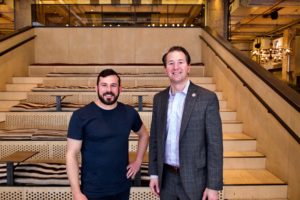 "It doesn't matter how big the name is … you have to deliver incredible work in every single detail," said Pitman. "The focus on quality isn't just having the big idea or having the big name – it's doing the right thing constantly."
For more insight from Spencer Pitman, tune into the full interview with him on Episode 39 of the Agents of Innovation podcast on iTunes, Stitcher, or Soundcloud. You can also follow the podcast on Facebook, Instagram, or Twitter.