Laura Johnson is the CEO and founding designer of Coton Colors, a Tallahassee-based company that creates handmade products "inspired by her life celebrations with her husband and three daughters." Laura created this company over 20 years ago – but it all started with her passion and her philosophy to "never miss an opportunity to celebrate every day." We caught up with Laura for an interview featured as Episode 38 on the Agents of Innovation podcast.
When holidays and birthdays come, we all naturally want to celebrate them. Laura was always searching for the right product to celebrate these milestones – or just the small little things in life. However, Laura Johnson isn't one to just buy a gift. She likes to personalize and put her own artistic and creative talents to work in crafting gifted items that can also serve a purpose. She also doesn't believe we should just celebrate the holidays as marked dates on a calendar. She believes every day is worth celebrating. So, throughout the years, as she and her husband would take in those little memorable moments that happen on any given day while raising their three daughters, Laura always found a way to celebrate those moments.
"Just enjoy life as it comes. You don't have to have to constantly be thinking about Christmas or your birthday as being the highest things, but stopping and celebrating your achievements or just checking your happiness every day is just really good for the soul," says Johnson. It also turns out, this philosophy is what led to her entrepreneurial success.
Friends, families, and neighbors started taking notice of Laura's artistic designs and her ability to craft home products for her family and friends. She began making things for them and thought that maybe she could bring some of these products to market to help other people celebrate every day, while also turning it into a business.
Today, Coton Colors makes kitchen products, holiday ornaments, college and greek products, with personalization options, and they also publish a lifestyle magazine. They can be purchased on the Coton Colors website and found on all sorts of social media, including the Instagram accounts for Coton Colors, their Happy Everything brand, as well as Laura Johnson's personal Instagram.

Laura is an artist first and CEO second, but as of late that has flipped, as one of her daughters has now taken over the creative design work of the company. Coton Colors has always had the help of family – when Laura first started the business her parents were recently retired and they lent a hand with the entrepreneurial skill sets they acquired through their own life's work.
When Laura first wanted to bring her product to market, she put it to the test by going to the biggest buyers' show in this industry, AmericasMart. This gave her an opportunity to place her products in a booth and meet buyers whose job it is to find products to put in their stores. AmericasMart attracts national and international buyers from every state in the Union as well as from places like China, Germany, and Australia. However, the heaviest buying for her types of gifts are found in the South. With the show being based in Atlanta each year, this was a conveniently located place to do business from.
Laura then set up a studio as a place she could manufacture the product in and get people working around her that could help her get the product to people and take it to market. While they primarily do the Buyer-to-Buyer avenue, such as getting small (and large) businesses to buy her products so they can be sold in their stores, Coton Colors also now has three flagship stores of their own — one each in Tallahassee, Tampa, and Atlanta. Their products can be found in large department stores such as Neiman Marcus, Dillard's, and Belk, but most of their relationships are with other small business owners.
Due to the popularity of Coton Colors products, these products also help other small businesses who sell Coton Colors products in their stores. In turn, Coton Colors helps them be better at marketing their products based on best practices. They hold training classes and gives these small business owners advice on how to best place Coton Colors products in their stores. A small business owner herself, Laura knows these other entrepreneurs are busy just trying to run their business, so "we give them the tools to help them sell the product better," says Johnson. "We openly share what we learn. We are huge learners at Coton Colors. You have to be a learner if you're going to work here."
"Always know that in anything that you do is developing a relationship – the most important thing is that people are at the heart of that relationship. If it doesn't work both ways, it's not going to work," says Johnson. "Long-lasting relationships are the key to any business. It can't just be one and done."
Coton Colors now has about 50 employees on staff and 95% of them are women. Between 2008 and 2010 – they doubled their business to $6.5 million annually. It was about this time they began experiencing growing pains they had to work through as they got larger and their products became more in demand. But now, at the beginning of 2018, Coton Colors does about $10.5 million a year, and they are continuing to grow.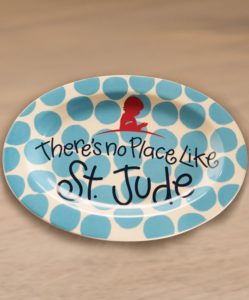 Laura also takes her philosophy to "celebrate every day" to managing her own business. "You just can't keep chasing that end goal — you'll always be moving that goal line and you'll never feel fulfilled if you don't stop and celebrate the small things."
Coton Colors doesn't stop at making a buck. They also invest their time and resources in charitable causes like St. Jude's Children's Hospital. They create products specifically designed for the hospital, which is sold online and in the hospital's store. All proceeds go to help fund children's cancer research. In addition, Laura and other employees at Coton Colors run some creative arts classes for the children at St. Jude's. Art can be therapeutic and give these children an outlet as they undergo treatment. Coton Colors are now taking some of the art inspired by the children and combining that patient art with their own as they design products for St. Jude's. They have a special "Inspire Happy" mug that launches alongside Children's Cancer Awareness Month in September.
Laura Johnson's entrepreneurial success and philanthropic passion shows that everything begins with a spark. For her, it was the philosophy to "never miss an opportunity to celebrate every day." For the patients at St. Jude's Children's Hospital, and their families, that idea is not easily lost. Through her Coton Colors design products, Laura Johnson is making sure it isn't lost on the rest of us either.
Tune into the full interview with Laura Johnson, listen in to Episode 38 of the Agents of Innovation podcast on iTunes, Stitcher, or Soundcloud. You can also follow the podcast on Facebook, Instagram, or Twitter.