Tony Lucca has been a musician nearly all his life. He grew up in Michigan as part of a family of musicians. Around 8 or 9 years old, he and his cousin started learning how to play instruments and sing and get in front of crowds. "We were torchbearers of the family trade," said Lucca. He had his first paid gig in the sixth grade. Now, at the age of 42, married with two kids, he recounts how he's been doing paid gigs for about three decades.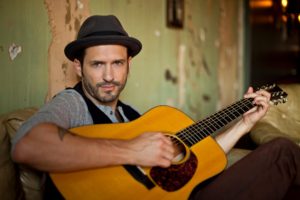 We recently caught up with Tony just before his show at the House of Blues at Disney Springs in Lake Buena Vista, Florida to record Episode 37 of the Agents of Innovation podcast. That evening, he opened for Jonny Lang, who he been touring with across the Southeast.
While Tony's first passion was music, he successfully auditioned and was cast as a member of the Mickey Mouse Club. He was with the hit Disney Channel television show for four years, alongside fellow cast members Justin Timberlake and Brittany Spears. From there, he followed the momentum of his acting career to Los Angeles where he appeared in various television shows, commercials, and films. While he enjoyed his time acting, he "wasn't in love with it." He wanted to get back to music.
"If you want to have a credible music career you have to establish yourself as a musician-artist first and then you can cross back over to film and television," said Lucca. That he did — over the next 15 years, he put out numerous albums and successfully toured. On his average night as an artist, he played for crowds of 75 to 100 people most places he went. But in 2012, after participating in a blind audition, he landed a spot on NBC's The Voice, where he went through the entire season and was the second runner-up.
After his stint on The Voice, his crowds doubled to several hundred people a night. He made a lot of new fans, was signed onto Adam Levine's label, and toured with Maroon 5 and Kelly Clarkson.
Since then, he has moved to Nashville with his family. "If you want to be a ski instructor, go where the snow is," said Lucca. "If you want to write songs, get your butt to Nashville." When he's in Nashville, he writes 3 to 5 days a week, and plays an occasional show. During the touring season, he can spend weeks on the road at a time. And it doesn't hurt that some of his old friends, like Justin Timberlake, are mega-famous, willing to collaborate, and always inspiring.
Tony let us know that sometimes he is called upon to guest lecture in college classrooms, particularly for people looking to find their way through the music industry. He often talks to them about his own background, the many crossroads he faced along the way, and the decisions he made.
His advice to young people is to "find that balance of passionately fulfilling your dreams … visualize what you want and go after it." He also adds that what's most important for anyone in taking the next steps in their career is "finding a source of accountability and someone who you respect and who has your best interest at heart and can give you honest, constructive criticism and not just surrounding yourself with yes men."
He also cautions about early success. "Don't think that any one opportunity is everything because it's not. It's just a step in a direction," says Lucca. "Find the stepping stones and plant your feet squarely on them and don't half-step."
To step through time with Tony Lucca, listen in to the full interview with him by tuning into Episode 37 of the Agents of Innovation podcast on iTunes, Stitcher, or Soundcloud. You can also follow the podcast on Facebook, Instagram, or Twitter. You can find more of Tony Lucca's music on his website at tonylucca.com.