Andrew Leahey & The Homestead just released their newest album, Airwaves, on March 1, 2019. It's an album that celebrates the anthem of rock and roll. It's the kind of rock and roll Leahey grew up listening to on the airwaves in the 1980s and 1990s – hence the name of their new album and title track, "Airwaves."
On Episode 55 of the Agents of Innovation podcast, Leahey recalled "growing up at a time when I think just casual FM radio was really, really good – at least for a person of my tastes," said Leahey. "It was a lot of rock and roll music – it was a lot of really big-sounding rock and roll music. So this album is us getting back to that."
Leahey says his style of music "feels good to play… getting back to where I began not as a musician but just as a music fan."
When he was growing up, radio "was the greatest educator in terms of music," said Leahey. "My earliest memories of listening to the radio are right before grunge really hit. Back then, you could listen to whatever local FM pop music station there was and you could still hear rock and roll on it. So I heard Tom Petty and Bruce Springsteen and John Mellencamp and Bob Seger."
"That kind of music – it just kind of created the bedrock of what feels natural for me to hear. That's kind of my musical home base. The new album [Airwaves] scratches that itch to get back to that," said Leahey.
And that's what the title track belts out with its sound and with lyrics like: "Where's all that heartbreak headed? I used to hear it on the Airwaves."
"The tune itself – Airwaves – it kind of pays tribute to the radio and to growing up listening to that," said Leahey. "It's also a rallying cry to bands like myself and our contemporaries – it's like a reminder that people are listening … I think it's good for bands to remember that; that people are listening, that people are letting their worldview take shape and we need to make a thing that's worthy of that because otherwise, why are we doing this?"
Leahey's path to being a lead guitarist and lead songwriter for a rock band with a big sound wasn't a direct one. Andrew grew up in Richmond, Virginia. His mother was a classical vocalist – and a pretty good one. She was frequently hired to sing at weddings, funerals, and church services. And she left her mark on Andrew and his brother when she had them take vocal lessons at a young age.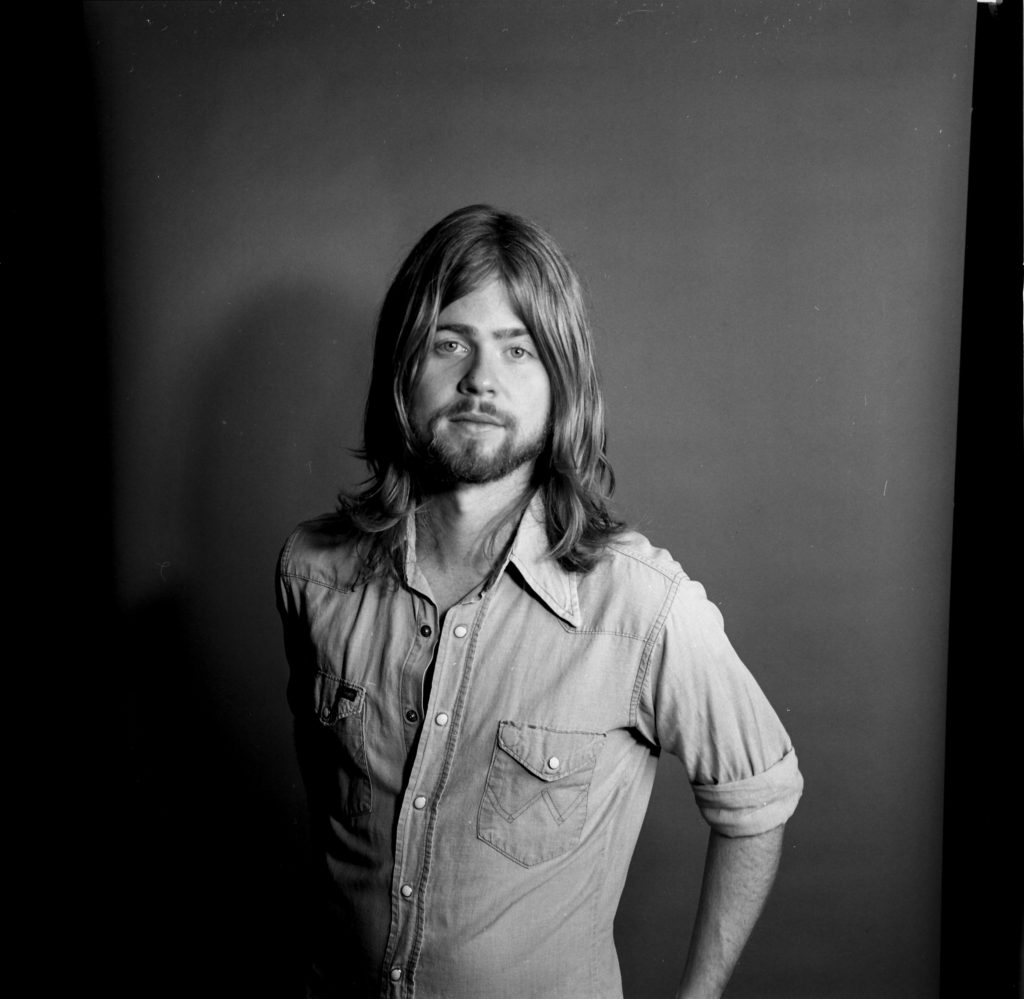 Through middle, high school, and college, Andrew did a lot of academic-minded classical music as a vocalist. He performed in choirs and chamber choirs. He attended the University of Virginia in Charlottesville and then found his way to New York City, where he spent two years performing with a choir at Julliard – which gave him and his choir an opportunity to perform at many places including Carnegie Hall, reaching some of the heights of vocal music performance.
"It took me climbing up that ladder and getting fairly high on it and looking around to realize it wasn't exactly what I wanted," said Leahey. From a young age, he was interested in music, and when his mother told him he needed to consider a backup career, he told her planned on being a music journalist. We aren't quite sure that's what she had in mind.
In his mid-20s, he moved out to Ann Arbor, Michigan, where he also got married. From there, he took a job at AllMusic.com – as their pop editor for four years. He also wrote columns and reviews for Rolling Stone, American Songwriter, Spin, Paste, The Bluegrass Situation, and The Washington Times. For him, it was a great crash course in music history – looking at artists he liked and what their influences were – and it really helped with his writing. He continues to write for some of these sources today, most often with an alias, so that readers are not confused by Andrew Leahey the musician and Andrew Leahey the music journalist.
But writing about music wasn't enough. He had the itch to play and perform and he and his wife considered moving to many places where he could do just that. "I wanted to go to a town that would really kick my butt and just really light a fire – light a nuclear blast under me."
He considered options like New York, Los Angeles, Seattle, but he ended up choosing Nashville, where he has now lived for eight years. Well, kind of. Andrew's wife is enrolled in veterinary school at the University of Tennessee in Knoxville, which is nearly three hours from Nashville. So, Andrew splits his time between the two cities. Therefore, even when he and his band are not touring, he's always on the road during this season of his life.
After arriving in Nashville, Andrew really beefed up on his guitar skills and worked his way towards becoming a lead guitarist for Elizabeth Cook, Rodney Crowell, McKayla Ann, Jamie Kent, John Latham, Will Hoge, Drew Holcomb, and others. His main gig with alt-country artist Elizabeth Cook has even given him opportunities to play at the Ryman Auditorium and the Grand Ole Opry.
Andrew is also the lead singer and lead guitarist for his own band. "Now that I'm the lead guitarist, the guitar riffs are always going to come from me, the writing clearly comes from me. I'm the lead singer as well. It helps strengthen the identity of what Andrew Leahey & The Homestead actually is."
Even with the establishment of that rock and roll identity, Rolling Stone magazine recently put him in the category of the "Top 10 Country Artists You Need to Know." However, they did say that his music is "for fans of Tom Petty, Bruce Springsteen, and Ryan Adams."
"It's been interesting to me the confusion or the muddiness of what kind of music we play," said Leahey. "To me, it's clear rock and roll. It's not classic rock, but it's a classic approach to rock and roll."
"Part of our identity and part of what we're also trying to get people to rally behind … is this idea that we're big fans of this kind of music, of this time period when this music was king … that's part of what this new album's identity is," said Leahey.
But how does a band like his find an identity in American pop culture when there are seemingly infinite ways of getting music – not from the radio airwaves – but digitally through Apple Music, Amazon, Spotify, Pandora, and other streaming services?
"As a musician …it's hard to be raised at the time when we were raised, when there was one kind of clearer way of how bands came up through the ranks and then when it actually becomes your turn, those rules have all changed. But I'm coming around to making peace with it."
In some ways, he is cutting through the clutter. Rolling Stone wrote that his "upcoming LP, Airwaves, is a celebratory mix of sharp storytelling and fist-pumping rock & roll swagger," and they named the title track their "song of the day" in early February.
But life has also thrown Andrew Leahey some curve balls. In 2014, he was diagnosed with a brain tumor – which grew on his hearing nerve. It threatened not only his life, but his hearing in his right ear, and his balance. The doctors told him there was a 50% chance he would lose hearing in his right ear, due to the surgery. For a musician and music journalist, that would also be career-threatening. "It's precious real estate in there," said Leahey.
After a long operation and long recovery, the tumor was removed, his life was saved, and his hearing wasn't damaged. In fact, even though half of his head was shaved for the surgery, his long rock and roll hair grew back. "I was just really, really pumped to be ok and to get my life back on track."
Now he meets many fans who have gone through similar life-threatening situations who can relate to him and his story. "It moves me in a way that I can't even articulate when a person comes up to me after a gig and they've gone through what I've gone through as well. That's incredible," said Leahey. And even for those who have not had a tumor (his was benign) or a life-threatening issue, Andrew says "everyone has their own trial."
One of those people is now his mother, who is suffering from Alzheimer's disease. This is a trial that not only afflicts the person with the disease, but also their family and friends who travel the painful journey of a loss of memories between loved ones.
This past year, Andrew Leahey & The Homestead won a battle of the bands contest and were invited to play on The Rock Boat – "the world's largest floating music festival" in February 2019. Prior to that, Sixthman, the company that runs The Rock Boat, also invited Andrew to join a handful of other artists on a songwriting retreat. Twice each day, Andrew was paired with a different artist for one-on-one songwriting sessions.
"The penultimate night, I had this idea in my head, and I ended up writing [a song] alone and it's about my mom who has Alzheimer's," he said. His mother was a teacher for many years and Andrew recalls that, "She's the reason I write as a journalist, she's the reason that I play music because she put me in lessons when I was a kid. It's a bummer – that's an understatement – to be doing this thing right now and not be able to share it with her properly."
For now, the song "New Memories" can only be found on the Sixthman Sessions album for those who attended The Rock Boat. "It's about her and the process of us continuing to have good times together, but knowing that to her those memories get washed away."
Andrew and the other artists in those Sixthman Sessions played a unique show on The Rock Boat that is only open to "veteran" fans who are not on their first Rock Boat experience. Andrew was given the opportunity to play it live for those fans. It was emotional for everyone in attendance.
"Playing it on The Rock Boat and talking to so many people that came up afterwards who have had that disease come to their families that was one of the highlights of the whole trip for me," said Leahey. "You really realize that music goes beyond you."
Whether music helps bring consolation to people in their trials or helps them experience the emotions of love and life – it's clear what Andrew Leahey & The Homestead are doing with their new album, Airwaves: they are producing that good ol' fashioned rock and roll for today's audiences who have been waiting for the lights to come on.
To listen to the full interview, tune into Episode 55 of the Agents of Innovation podcast on
Apple Podcasts, Stitcher, or SoundCloud. You can also follow the podcast on Facebook, Instagram, or Twitter. We welcome your comments below!