How committed are you to the causes you believe in? Are you willing to get in a boxing ring to literally fight for that cause? That's the premise behind the charity boxing organization, Brawl for a Cause, founded by Matt Thomas. We feature Matt's story on Episode 45 of the Agents of Innovation podcast. Listen on Apple podcasts, Stitcher, or Soundcloud.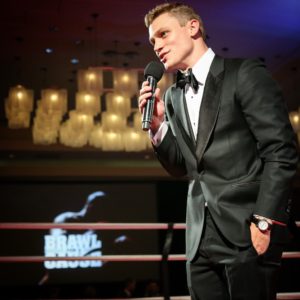 When Matt was at the University of Georgia, he became interested in boxing, but saw a big gap in the sport. There were boxing competitions for high-level competitors or there were very basic beginner boxing classes. There wasn't much in between. So, he had an idea to start a boxing event where only students could compete, so they could face someone who was at a similar level of expertise. He then added a charity aspect to it so they would have a purpose for the fight.
The first one was held at the Georgia Theatre in Athens – right after it was rebuilt (it had been burned down by a fire). The event took three months to plan and consumed his life. It included 22 fights with 44 boxers. They were all fighting to raise money for UGA Heroes, which benefitted children in Georgia affected by HIV/AIDS. This enabled Matt to make the largest donation by any student to the organization. He was inspired to do more, not only because of the gift he was able to make, but also because so many students kept coming up to him wanting to do it again.
However, Matt had a few friends who were kind of beat up and bruised from the first event. Because he spent all his time planning it, he never competed in it. "If I'm going to do this again, I gotta put myself in their shoes and I gotta make sure that this is a good thing," he said.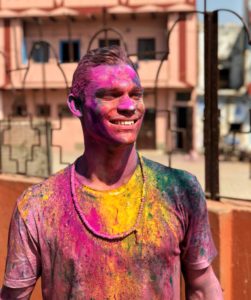 So, Matt trained to box and signed up for his first boxing competition. It didn't start well. In the first round of his first match, his shoulder was dislocated. After the match was stopped and he relaxed, so did the muscles in his body. He felt his shoulder go back into place and he was cleared to restart the boxing match. He lost the first two rounds, but came back strong during the second round and won the third round and was pronounced the winner. "That experience was so identity-defining; to go from that kind of early adversity … there was something in me that said, you got to continue," he recalled. "And to come back, it was really special."
Matt graduated from UGA with a major in history in 2013. He started law school at Georgia State, but continued putting on charity boxing competitions back at his alma mater. He decided law school wasn't for him and he kept thinking that something special was happening with these charity boxing matches and the innovation in philanthropy he was providing. But he wanted to better hone his entrepreneurial skills so that he could be more successful.
Over the next three years, he worked for two tech start-ups: SalesLoft and Roadie, led by Kyle Porter and Marc Gorlin, respectively. "Learning from those two entrepreneurs really rocked my world on what creating value and understanding the customer and scaling means," said Thomas.
When he hit his mid-20s, he decided to take some time off. He moved to Costa Rica. It was during this time he really thought about what he wanted to do long-term. It was also during that time he was offered a volunteer opportunity at the Kairos conference. While there, he was able to maximize the opportunities to meet many influential people and talk to them about what had become his side project, Brawl for a Cause. It was "a weekend that totally changed myself," said Thomas.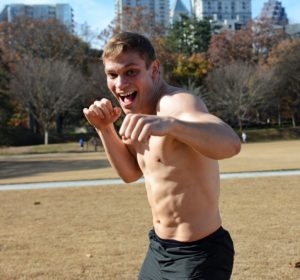 While there, Matt was offered the opportunity to be the guest on the first episode of a new podcast by Entrepreneur magazine. After the episode aired in June 2017, people from 17 cities around the United States contacted Matt and signed up to Brawl for a Cause if the organization hosted something in their city. Since that time, Matt started gaining new support and put all of his efforts into making this his main purpose in life. It's now his full-time job.
On February 17, 2018, Brawl For a Cause hosted its biggest event yet: Brawl at the Benz, which took place at Mercedes-Benz stadium in Atlanta. This is the same state-of-the-art facility that hosted the 2018 NCAA basketball championship and is set to host the 2019 Super Bowl. The Brawl at the Benz was a black-tie event, where attendees got to watch all the brawlers fight for various causes, while partaking in casino-style gambling and an open bar, all while supporting Brawl for a Cause and the thirty charity organizations it was able to donate more than $200,000 worth of proceeds to following the event. The event took more than four months of planning, where Matt equipped brawlers with the resources to train for their boxing match while also fundraising from their friends and neighbors.
"This event challenged me in ways I didn't even know a person could be challenged," said Thomas. "It made me grow and see Brawl for a Cause in a very different light. But it also reinforced that this is my path forward."
As part of that path, Matt is now getting back in the ring himself. After his shoulder was dislocated six years ago, it was never the same. Two years ago, he had surgery to repair it. And over the past two months, he has been training to compete not only in the boxing ring, but also on the chess boards in the world championships of chess-boxing, taking place in Calcutta, India on July 26-29, 2018.
Matt first learned about chess-boxing while he was recovering from shoulder surgery and spending time on YouTube. Round by round, competitors spar in the boxing ring and then alternate rounds on the chess boards. Matt grew up playing chess since he was six years old, competed in tournaments until he was 11, and was part of his high school chess club. "When I saw that childhood passion [for chess] combined with my college passion of boxing, I was like, man, I feel like I was made for this sport," said Thomas.
"In both, there's this concept of a knockout punch or a checkmate," explains Thomas. "It takes more endurance to be a chess competitor than it does a marathoner because of how much you exercise your brain … If you imagine the boxing ring as a chess board: chess is a lot about controlling squares, controlling space." And that's one of the ways boxing is judged, he says, it's "how you control how your opponent moves in the ring."
"If I'm able to dominate the center of the [chess] board  just like a boxer would dominate the center of the ring, if I'm able to push you to the corners and exercise my pieces or punches more effectively, I'm going to win the match," says Thomas.
And he's doing all he can to represent Team USA – the first time any Americans are competing in the world championships of chess-boxing. He has found one teammate to join him in the cause, a 21-year old from Iowa who has a wrestling background.
Because chess-boxing doesn't yet exist in the United States, Matt constructed his own training regimen in Atlanta, Georgia. His boxing coach is Isadore Nicholas, who was an assistant coach for the Cuban boxing team and has coached 12 Cubans to gold medals. "Training with this legend has really been amazing and taken my boxing to the next level," said Thomas.
On the chess side, his coach has been Carlos Perdomo, who, as a child, was a national chess champion in his native Colombia. Perdomo now runs Chess Atlanta, an after-school program for children between ages six and twelve.
"It's been really humbling getting into the ring with much more talented boxers than me, getting on the board with much more talented chess players than me, and seeing how far I can push myself and how I can progress in just eight weeks – when I found out about the tournament I'm competing in," said Thomas.
His training time models that of the brawlers he recruits. While competing in Brawl for a Cause, they live normal lives and partake in a boxing competition for a cause they believe in. During those eight weeks, brawlers go through boxing training and fundraising at the same time. "That journey – I've seen it change lives," said Thomas. "I've been so captivated by the evolution and the journey they go on and I've never done it myself, and so when this chess-boxing opportunity came up – I was like – I have to!"
The next step for Brawl for a Cause is scaling it up. Matt and his board are currently investing in more digital content to reach a broader audience. On their social media platforms, you will soon be able to follow some of the stories of the brawlers and the causes they represent, as well as seeing the boxing matches they take part in. If you're in the Atlanta area, you can attend some of their big events. Wherever you are, you can contact Brawl for a Cause and sign up when they come to a city near you.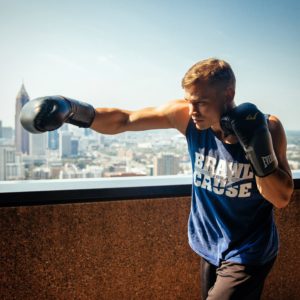 Brawl for a Cause is bringing more excitement and energy to philanthropy. While they have had participants and attendees of all ages, their demographic skews younger, to people in their 20s and 30s. "Our mission is to capture the attention of the next generation of donors very early in their donor life cycle," said Thomas.
He also wants to diversify the causes they learn about. At Brawl for a Cause events, attendees and brawlers "are being exposed not just to the same echo chamber of causes that are already in their ecosystem – but to 28 other ones that could be game-changing or world-changing if that attendee or that brawler got involved with them," said Thomas. "We think this is going to make people more philanthropically aware. We think that's going to lead to higher value acquisitions for the nonprofits that we choose to partner with for our events."
Matt Thomas encourages people to fight for their cause and he's also taking the steps to get in the ring himself. "When you look back on your life, you want to say that at least once in your life you fought for what you believed in." Matt Thomas is living his life doing just that. The invitation is now being extended to you.
You can listen to our full interview with Matt Thomas on Episode 45 of the Agents of Innovation podcast on Apple podcasts, Stitcher, or Soundcloud. You can also follow the podcast on Facebook, Instagram, or Twitter.