Miguel Crespo is the son of Cuban immigrants. Born and raised in New Jersey, Miguel is grateful for the many sacrifices my by his parents and the many Americans who came before them, to provide an opportunity for he and his family to live in the United States of America – a sanctuary of freedom – and a sharp contrast to the totalitarian regime that took over his family's native Cuba.
After graduating from high school in north New Jersey, Crespo joined the U.S. Marines. His last duty station was at the Naval Training Center in what is today the Baldwin Park neighborhood in which he lives.
Once he finished his time with the Marines, with his last duty station being in Orlando, he used the G.I. Bill to go to the University of Central Florida, earning a degree in radiological science. He started his career in medicine. He now lives in Baldwin Park, a neighborhood less than 10 minutes from downtown Orlando that sits on the site of a former U.S. Naval Air Station. For a half century – going back to World War II, men and women in the U.S. military were trained in what is today known as Baldwin Park, before the base eventually closed in the 1990s. Developers saw an opportunity to build a unique neighborhood, surrounding the very large Lake Baldwin. Today, it is a thriving neighborhood with shops, restaurants, and even a cigar lounge.
Miguel opened Admiral Cigar Club in Baldwin Park in 2016. The entire place is dedicated to the memory of those who served in uniform for the United States, with a particular focus on the Navy and Marines, as well as décor that serves to remind patrons of the sacrifices of previous generations,, with very large WWII posters, along with dates of important battles and victories in both the European and Pacific theaters.
"It's good to expose the younger generation, even if it's subconsciously, to what's around them," said Crespo. "When you look on the back wall and you see fifty, sixty years of history staring down upon you, you start asking: 'well, who were those guys?' Those were the guys that made it happen … those are the kind of folks we need to idolize and symbolize as heroes, that even when they experienced the most injustice, the most difficult circumstances, still rose to the occasion. That's what it is to be an American."
"Because of the opportunity that this country gave my parents to flee tyranny and oppression and socialism and eventually communism, I felt compelled, I felt honor-bound to give back so I joined the Marine Corps," said Crespo. "I spent 8 years in the Marine Corps. I was in the first Gulf War. So hopefully the debt that this country gave my parents and the opportunity they gave my parents was paid in full."
"I've been here since 1994. I saw the transition from the Naval Training Center to Baldwin Park proper," said Crespo. "Admiral Cigar Club was actually born on the Fourth of July, 2016. It is American patriotic themed. I am of Cuban descent, so of course cigars are in our blood."
The cigar lounge, however, is not Miguel's primary business. In 1997, he and his business partner Ed Mashias established Professional Imaging Centers in Orlando. With locations in East Orlando and Kissimmee, and a mobile ultrasound presence that spans from Tampa to Ocala. "We go on-site and bring ultrasound imaging services to physicians in their office," said Crespo.

He noticed that Baldwin Park had the right demographic to support a cigar lounge. He and his business partner do a lot of entertaining for clients already and thought it would be a great opportunity for them to own their own lounge and be able to open it to family, friends, and business associates for an upscale, controlled environment anytime they wanted. "The genesis for [Admiral Cigar Club] was as a marketing extension of our primary business," said Crespo.
"We really did not have tremendous expectations that it would be as successful as it is because we were not sure if people share the same vision. Now society is so convoluted. The lines have been blurred. Here, this is a beacon of freedom. This is Guantanamo. Everything else out there is Cuba. This is a beacon of freedom. Here, a guy is a guy, a woman is a woman, there's no blurred lines. When you're here, you know where you're supposed to be."
"The nostalgic part of the cigar is the memories it brings of my parents and my father," said Crespo. "There is something transformetic that happens when you're smoking a cigar. You just feel a little different. It's not just the physical response from the tobacco and the nicotine, but it's – for me – it's a nostalgic thing. I really enjoy it. I love spending time here [at Admiral Cigar Club]. The time that I enjoy the most here is when there's no one else here and it's just me."
Miguel admitted that he and his business partner "don't really have as much involvement as we had before. We have a great staff and they are the biggest reasons for the success," he said. "We only provide the venue, the products. They really make it happen. If it wasn't for them, it wouldn't be as successful as it is."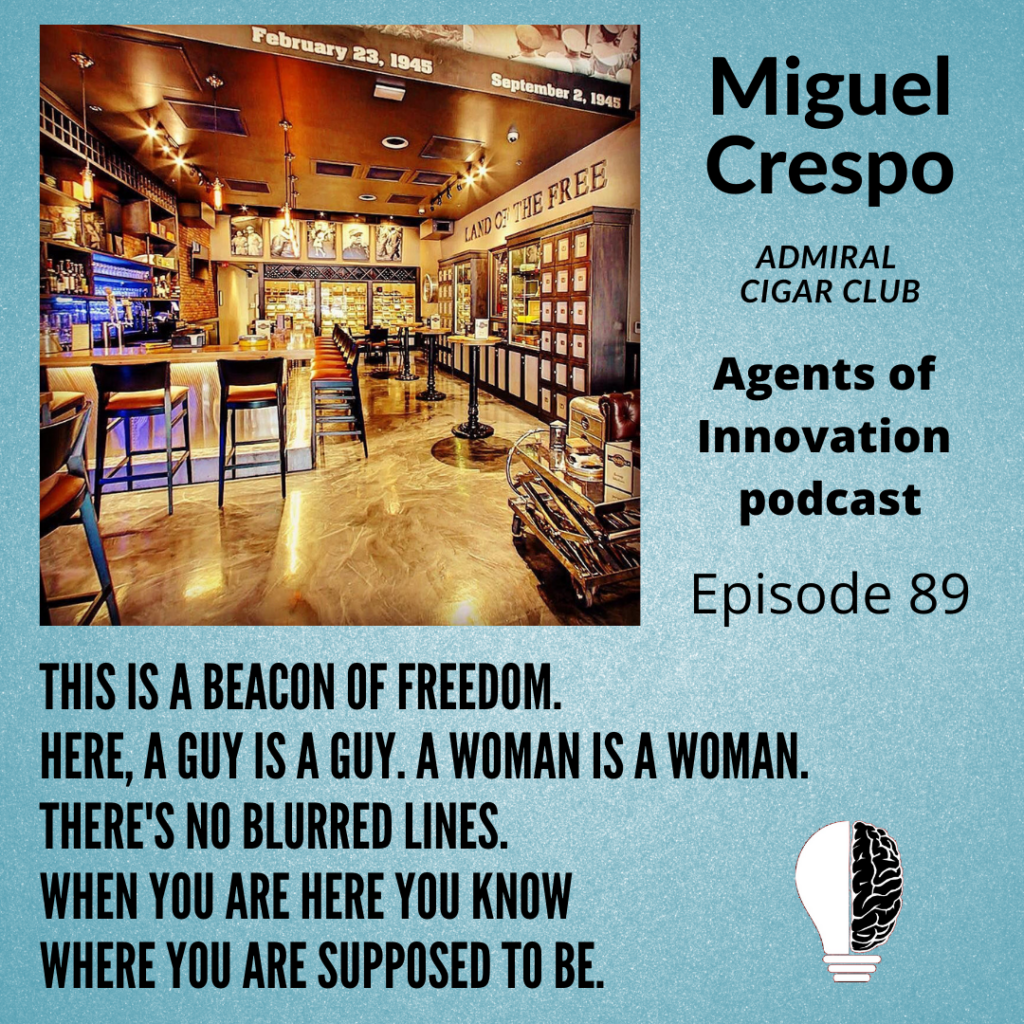 "We try to create an atmosphere for gentlemen and ladies to be a gentleman, to be a lady," said Crespo. "The product that we sell the least amount of is cigars. Most of the transition of the bar changes as the night goes on. The demographic is a mix."
Miguel's first job was working for a landscaping company when he was in high school. This is where he truly learned work ethic. "Initiative is one of the best motivation tools to get you from point A to point B," says Crespo. I know now there is so much reliance on others and the government and other stuff, but really, if the individual just takes the initiative, you can make it happen. But you got to do the work."
Admiral Cigar Club, like many cigar lounges, has a great ventilation, filtration, and air purification system that was first intended to filter out the cigar smoke, but has also been beneficial during the COVID19 pandemic. As a smaller, more controlled environment, Crespo believes many patrons may view it as a safer environment than larger venues.
During 2020, COVID19 also brought many restrictions on those in the restaurant, bar, and lounge industry. However, for Crespo and his business partner, they were fortunate that Admiral Cigar Club is not their primary business.
"The bar suffered significant financial losses being closed for almost three months," said Crespo. "And then to start back, we were way off pace, we were not on schedule as far as what we normally do. So thank God we had the other business and we were able to keep everybody here employed and paid. That was our honor-bound that we were trying to pay back all their hard work in the past."
Fears of COVID19 caused the federal, state, and many local governments to shut down or restrict operations of private business.
"Danger is real. We have to mitigate danger; we need to do collectively and individually things to mitigate any kind of danger," said Crespo. "But fear is something that we create. Fear is something that is debilitating and is compounded with the fact that if you have a real danger but you have a lot more fear there's a significant overreaction. And in a free society, that we should strive to be, you give the public the real data, the real information. Let them choose for themselves and their families what's good for them and the measures they need to take versus having a blanket policy that can have more debilitating effects for more people – and the old adage that the cure may be worse than the disease itself."
He learned most of his leadership skills from his time in the Marine Corps, describing the small units and the fact "you have to work with whoever they put in front of you." He adds, "When you are an employer and a boss, you can select people based on many, many factories. When you are in the military or in the Marine Corps, it's such a small comprised unit organization, that you really have to work with whoever they put in front of you," says Crespo. "And you have to assume that the leadership knows exactly what they are doing because the essence of leadership is followship. It's a commitment. You are assuming that the person above you is there for a reason therefore following their lead will help us to create the ultimate goal which is the mission."
He also credits his parents for "instilling work ethic and believing that you treat everyone the way you want to be treated. You give respect, and you get respect." His formal education at UCF and other life experiences added to these foundations as well. "The education experience continues, including right now with this interview."
Miguel says he has also learned that "when folks see passion, desire, and competency, they tend to believe in you."
Professional Imaging is an outpatient radiology practice. For the first five years of their existence, they were a mobile ultrasound service. After graduating from UCF, Miguel got a job at Orlando Regional (which is now Orlando Health). He got experience as an inpatient and later transitioned to outpatient services. He then worked for a mobile imaging service locally. They had a relationship with a staple of private physicians – customers for them – that they were just going to let go.
"That's the moment when hard work, dedication, and you hear the knock of opportunity coming, and the physician that says, 'hey Miguel, why don't you buy a machine, you could continue to do this yourself,' recounted Crespo. He then went to his brother-in-law and his business partner Ed Mahias, and borrowed $50,000. "We started in his garage and the rest is the American Dream." Today they have 85 employees.
In a health care industry that is constantly evolving and bringing new challenges, his lessons from the Marine Corps also taught him "to improvise, to adapt, to overcome is the goal."
His advice for aspiring entrepreneurs: "Find something that you're good at, that there's a demand for, and that you're willing to do the work for. You can almost apply that matrix to anything for success," said Crespo. "Hard work and dedication create some luck. And there was some luck along the way. And surround yourself with good people … identify talent and put them around you. It raises your game."
He also urges others not to be afraid to fail. "Failure is a prerequisite for success. You have to taste the vinegar of failure in order to enjoy the sugar of success." Today, Miguel is enjoying that sugar of success. Sugar and tobacco. Those are tastes of his homeland of Cuba. And for Crespo, it's the love of the leaf that embodies his sanctuary of freedom at Admiral Cigar Club. And around his lounge, freedom has a sanctuary that always tastes sweet and smells delicious – for cigar aficionados, anyway.
You can listen to the full interview with Miguel Crespo on Episode 98 of the Agents of Innovation podcast, on  Apple podcasts, Amazon podcasts, Spotify, Stitcher, and SoundCloud. You can also follow the podcast on Facebook, Instagram, or Twitter.
Please consider supporting the Agents of Innovation community by becoming a member of our Patreon page today, starting at just $5 a month!