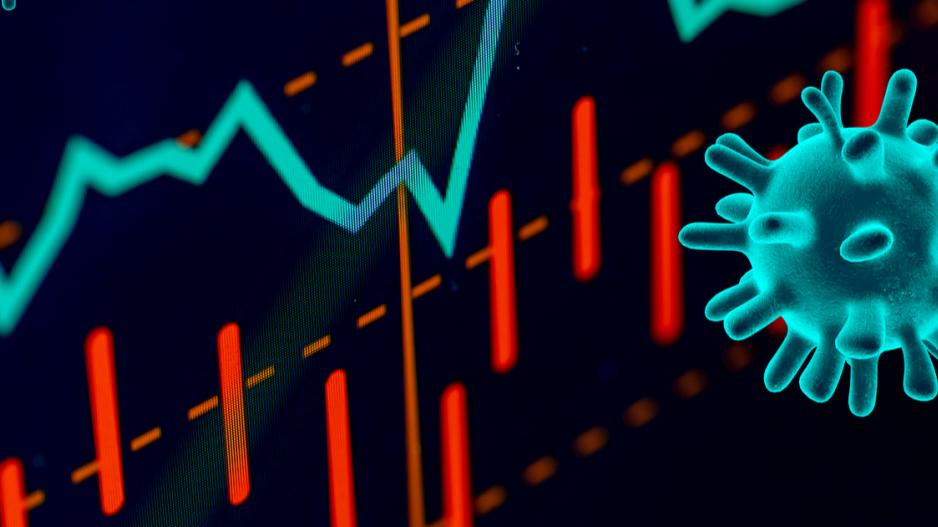 Episode 72 of the Agents of Innovation podcast was released on March 16, 2020 as a Special Emergency Episode to respond to the economic disruption caused by the COVID-19 health crisis. Guests included Kevin Scott, co-founder of ADDO, who spoke to us about leadership in a time of crisis; Zak Slayback, venture capital professional and writer who focuses on careers and spoke to us about how to transition to working from home; and Esther Davy, who is the founder of ColoradoWithKids.co and has written about how we can help small businesses through this economic chaos and how families with children can transition to being quarantined together for long periods of time.
The COVID-19 coronavirus has wreaked a public health havoc across the globe, including in the United States. Because of the fact that many infected with the virus are very contagious and may be asymptomatic (for up to two weeks), businesses have shut down, governments have implemented stay-at-home orders, and the idea of "social distancing" has been introduced. This public health crisis has created a major economic catastrophe across all spectrums of society. In the wake of all of this beginning to happen in March 2020, the Agents of Innovation podcast responded with three incredible guests who came on to engage our larger community.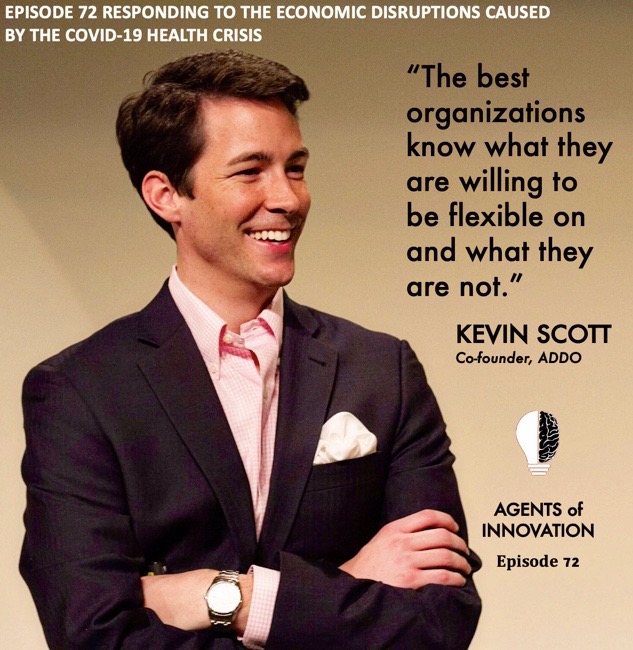 Kevin Scott lives in Atlanta, Georgia and has traveled to six continents and spoken to leaders from more than 100 companies. ADDO's mission is building leadership programs, products, and experiences that inspire and equip individuals, teams, and organizations to lead well in society. Some of their clients include household names such as Chick-Fil-A, Coca-Cola, and the Baltimore Ravens. Just a few days before we interviewed him on Episode 72, Kevin released an infographic (posted below) to help leaders instill a culture of care in the midst of chaos, with seven key strategies.
As Kevin told us on the Agents of Innovation podcast, "The best organizations know what they are willing to be flexible on and what they are not." More than anything, the best leaders remember why they do what they do. During times of crisis, the "why" of any organization should be seen now more than ever.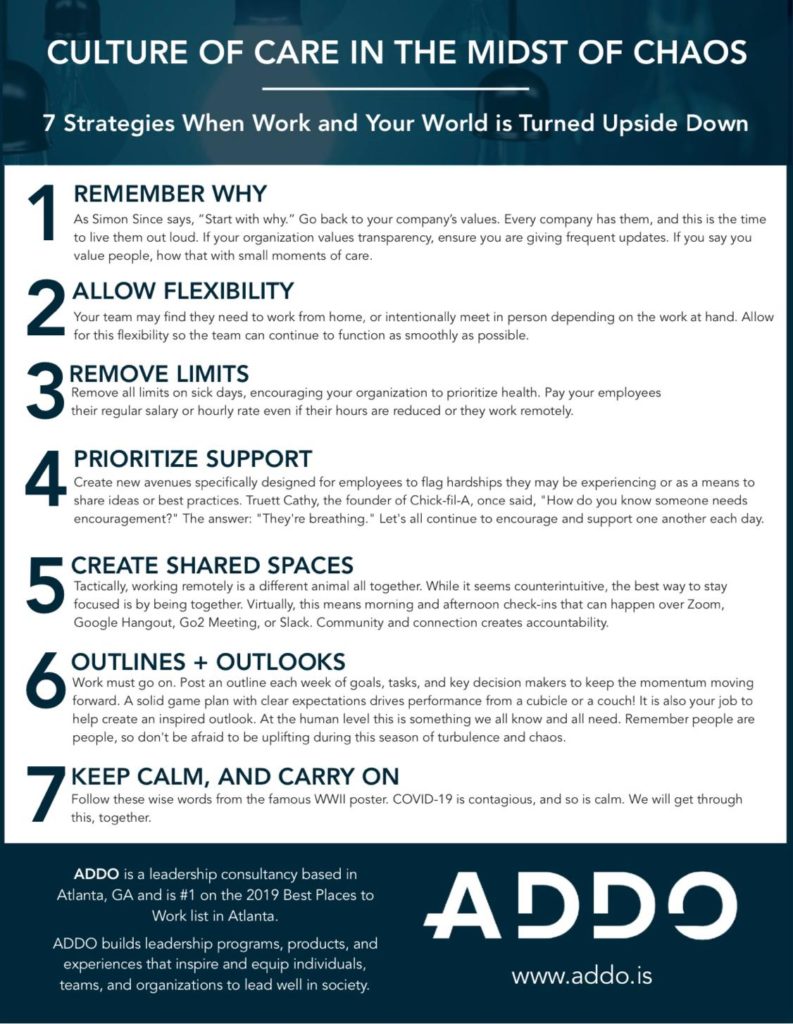 Our second guest on this special episode was Zak Slayback, who was a previous guest on Episode 36 of the Agents of Innovation podcast. During his return, on episode 72, he walked us through the process of how to transition to working from home during the COVID-19 health crisis and why employers should allow employees to do this as much as possible to avoid the spread of the virus.
As a writer and venture capital professional who lives and works primarily from western Pennsylvania, he has worked remotely for a long time and shared some great tips for those who are not used to working away from their team and away from a corporate office. As part of this effort, he also wrote an informative article with "Tools to Work From Home and Work Remotely" from the office. We discussed these details including video conferencing and project management tools for individuals and teams to use to continue to collaborate while social distancing.
"I think what we're probably going to see is a lot of teams: their hands are going to be forced to let people work from home and I think the teams that will survive long-term and will prosper long-term are the ones that will see … that people are just as productive or more productive and they are going to allow more and more teams work from home" beyond this crisis, said Slayback. "I hope that's the direction that we see things move. I think it will be good for the culture as a whole and good for worker sanity and work productivity."
Zak also spoke to us about virtual education and the way this pandemic might cause some to rethink the way education is delivered, from K-12 to higher education.
Our third and final guest on this special episode was Esther Davy, who lives in Golden, Colorado and came on to offer some suggestions about small things we can each be doing to help local businesses stay afloat and weather this moment. She wrote a post that includes "5 Safe Ways to Support Local Business (Even While Staying Home COVID-19)." These include things like ordering delivery or take out from a local restaurant, purchasing products online from local businesses who offer those services, buying gift cards as a way to give cash flow to businesses you will be able to service after the crisis passes, purchasing digital services local business, and who offer these products and services, and using some of our free time to write a review of a local business and sharing those reviews on social media, especially on sites like Yelp, Facebook, or Google.
"Remember to consider your neighbors and your local businesses and your local communities and how all of our decisions today can help those businesses and those people. We can come together and get over this together.
As a mother of two children under the age of four, Esther also spoke about some things parents can be doing with their kids while at home together a lot longer than usual. On her website, she provides "17 Things To Do When You're Stuck at Home With Your Kids: COVID-19" and "7 Tough Questions Kids Ask About Coronavirus and COVID-19."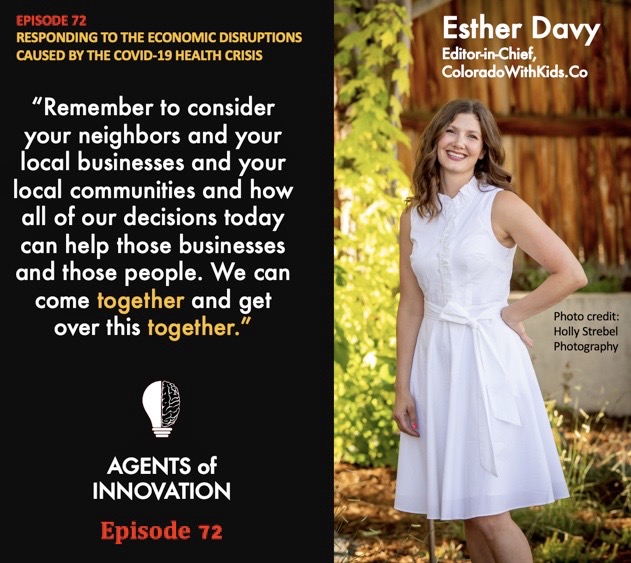 These three leaders are examples of Americans who are stepping up to help their friends, neighbors, colleagues, and the general public to adapt and evolve, stay safe, and stay economically viable while we all work together to limit the spread of the COVID-19 coronavirus.
You can listen to the full interview by tuning into Episode 73 of the Agents of Innovation podcast on Apple podcasts, Stitcher, and SoundCloud. You can also follow the podcast on Facebook, Instagram, or Twitter. We welcome your comments below and encourage you to write a review on Apple podcasts!