On June 23, 2018, Georgia Pellegrini will be the host of a new show, Wild Food, that premieres that night on the Destination America network (Tune in at 10pm ET/9pm CT). But it wasn't long ago that Georgia was working on Wall Street upon graduating college. She wasn't happy in that grinding life.  "I didn't see anyone I wanted to become when I grow up," she said."
She wanted to get back to her roots and use her hands again. "I quickly realized [working on Wall Street] was going to feed my bank account, but not my soul," said Pellegrini. Speaking of food, she enrolled in culinary school. And from there began our interview with her on Episode 43 of the Agents of Innovation podcast.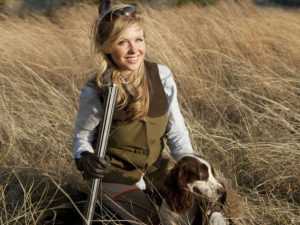 "I had a more creative spirt in me that wasn't being utilized," said Pellegrini, as she spoke of educating herself in manual literacy. Following culinary school, she worked in the kitchens of some high profile and famous restaurants in New York City. She noted that the grueling trading floor of Wall Street was good preparation for the high-powered kitchens of some of these establishments where she first got her hands dirty again.
In a world with mush division, Georgia reminded us that "Breaking bread with people around the table is the great unifier."  A native up up-state New York, the concrete jungle of New York City made her want to get back in touch with nature, with the land, and she began a passion for bringing food from the fields and farms to the table. She also started a website and authored her first book, Food Heroes.
She then decided that she wanted to participate in every cycle of life of food: so she learned how to hunt and details this experience in her second book, Girl Hunter. "I think you appreciate your food more when you interact with it in that way – it means more," said Pellegrini.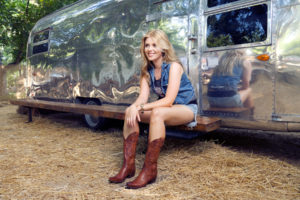 Over time, Georgia Pellegrini's life became a brand. At her website, georgiapellegrini.com, her audience can learn how to cook and hunt food, they plan adventure getaways, they engage in modern pioneering, and ultimately she teaches them how to live a more self-sufficient life. This organic evolution of her life, her brand, and what she offers her audience was in a large part simply Georgia responding to things she saw her audience wanting from her.
"I recognized that there was this desire among many people to disconnect from their own concrete jungle or own sort of daily routine and find ways to get back in touch with things that are outside us – that are very tangible and closer to our evolutionary beginnings at humans," said Pellegrini.
This led to her third book, Modern Pioneering, where she teaches people that "there are ways that are even small that we can get back to the land," she said. "Living a slower life, even in small doses, when you have a moment, it allows us to be better human beings on this earth … For example, when I'm outside in nature, I'm more present than I am not in my daily life: I see differently, I smell differently,I  hear differently, I taste differently."
"Constantly being in a reactionary state – that's not natural for humans," said Pellegrini, reflecting on all the modern conveniences and gadgets that demand our attention 24/7. "I think when you're able to tap back into some of those things that are natural, it's incredibly invigorating, it's very healing, it's very centering." And she adds that, "The more people experience that the more they want a piece of that. What I do is just give people little doses of it."
An author of three books, she has gained much media attention. She's been a featured cook on Jimmy Kimmel Live, The Today Show, and much more. Now, she'll be the host of her own show, Wild Food, on the Destination America network, starting with the pilot which airs on June 23 at 10pm ET / 9pm CT.
On Wild Food, Georgia goes into different cultures in the world, meets local people, and goes on crazy food adventures. In the pilot alone, she'll be scaling walls, hunting in an airboat, and cooking up some alligator. She says her new show is "a great opportunity for people to celebrate the outdoors together, celebrate cultures, nature, travel, food, recipes … it's adventure-packed!"
The greatest advice Georgia gives other entrepreneurs is to be authentic and true to themselves. "Authenticity is the only thing that matters at the end of the day," says Pellegrini. It seems to be working for her.
You can listen to our full interview with Georgia Pellegrini on Episode 43 of the Agents of Innovation podcast on iTunes, Stitcher, or Soundcloud. You can also follow the podcast on Facebook, Instagram, or Twitter.